At Cornerstone Dentistry, we understand that having dental implants can be a life-changing experience. We offer the best implant services at our Anderson, SC, and surrounding locations and can help you get the smile you deserve. Our experienced team will work with you every step of the way to ensure your complete satisfaction.
Our goal is to make sure that your implant procedure is successful and that you are comfortable throughout the entire process. We utilize the latest technology and techniques to ensure your implants look natural, feel comfortable, and last many years.
We understand it can be intimidating to research the right dental implant for you, so we focus on helping every patient make an informed decision. Our team will walk you through your options and help you select the best implant for your needs.
If you live in Anderson, SC, and are considering dental implants, visit us at Cornerstone Dentistry today!
Our experience and expertise can help you achieve the smile of your dreams.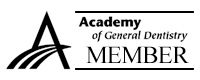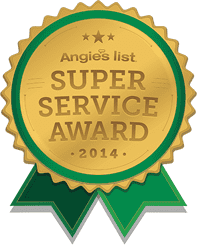 Single dental implants are an excellent option for patients who have lost a single tooth. The implant is placed in the jawbone to serve as a foundation for one artificial tooth, which is then attached to the implant. This allows the false tooth to look and function just like a natural one.
When considering getting a single dental implant, it's important to remember that the procedure can be a bit more complicated than getting an implant for multiple teeth. This is because the dentist has to ensure that the implant placement is precise, as it will support a single artificial tooth.
Additionally, before getting a single dental implant, patients must ensure they have enough healthy bone in their jaw to hold the implant securely. If there isn't enough healthy bone, a patient may need to undergo a bone graft to build up the jawbone before getting the implant.
Single dental implants are an effective and reliable solution for replacing a missing tooth. Proper care and maintenance can last many years and provide patients with natural-looking results. Patients should speak with their dentist about all their options for replacing a missing tooth to determine if a single dental implant is the right choice.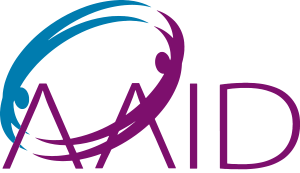 Multi-tooth Dental Implants
Multi-tooth dental implants, also known as implant-supported bridges or implant-supported dentures, are dental prosthetic devices used to replace multiple missing teeth in a row. They are a modern and effective solution for individuals who have lost several adjacent teeth or need to replace a full arch of teeth.
Unlike traditional dentures or bridges that rely on adjacent teeth for support, multi-tooth dental implants are anchored directly into the jawbone, providing a stable and permanent solution. The implants are small titanium screws surgically placed into the jawbone, integrating with the surrounding bone tissue through osseointegration. This fusion creates a strong foundation for prosthetic teeth.
Once the implants have fully integrated, a dental prosthesis, such as a bridge or denture, is attached. The prosthesis is custom-made to match natural teeth' color, shape, and size, providing a natural-looking and functional replacement. The number of implants required depends on the specific situation and the number of missing teeth to be replaced.
Benefits of multi-tooth dental implants include:
Improved stability:

Implants provide a stable foundation, eliminating the issues associated with traditional dentures, such as slipping or clicking while talking or eating.

Preservation of jawbone:

Implants stimulate the jawbone, preventing bone loss commonly occurring when teeth are missing. This helps maintain the facial structure and prevents a sunken appearance.

Enhanced chewing ability:

With multi-tooth dental implants, you can regain full biting and chewing functionality, allowing you to enjoy a wider variety of foods.

Improved speech:

Unlike ill-fitting dentures that may affect speech clarity, implants provide a secure fit, allowing for natural speech patterns.

Long-term durability:

When properly cared for, dental implants can last a lifetime, making them a reliable and long-lasting tooth replacement option.
Consultation with a qualified dentist or oral surgeon is necessary to determine if you are a suitable candidate for this treatment and discuss your case's specifics.
Full Mouth Dental Implants
Full mouth dental implants can restore form, function and aesthetics of a smile. This type of treatment has many advantages over traditional treatments such as dentures or bridges, including the fact that it is permanent and does not require periodic replacements or adjustments.
Additionally, full mouth dental implants are typically easier to clean than other forms of restoration solutions due to their ability to remain securely attached to the jawbone. With correct care, full mouth dental implants can last a lifetime and provide a natural-looking smile.
Since the implants are attached directly to the jawbone, they do not require the use of adhesives or other special materials. This makes taking care of them easier and more convenient for patients.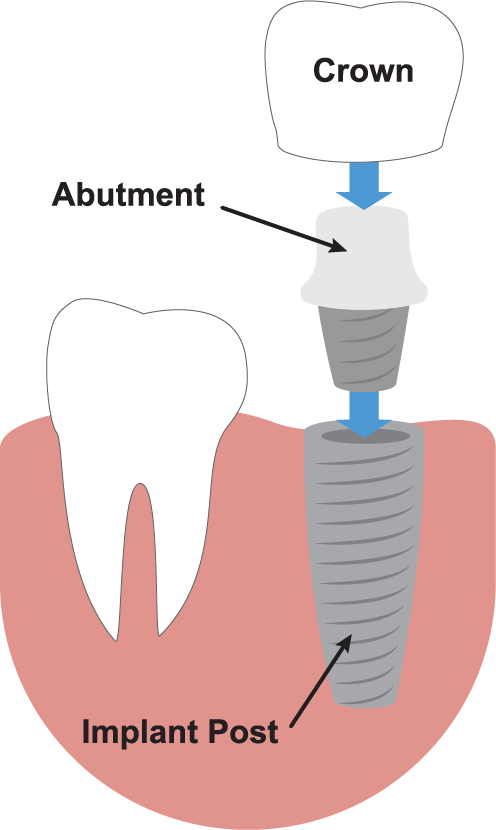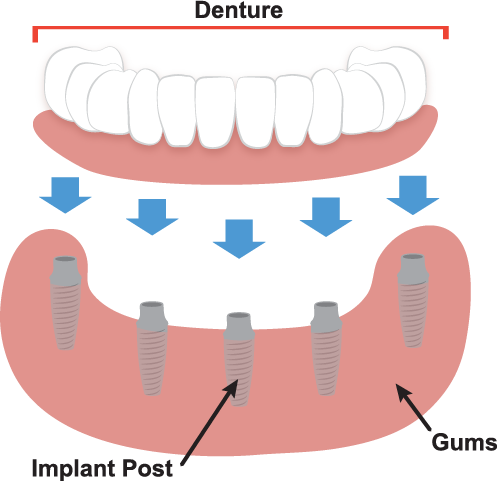 Mini Dental Implants
If you're looking for a solution to your missing teeth or uncomfortable dentures, you've come to the right place.
So, what exactly are mini dental implants? Well, they're just like regular dental implants, but smaller in size. These tiny wonders are designed to provide stability and support for your dentures or crowns, giving you a natural-looking smile and boosting your confidence.
One of the great things about mini dental implants is that they require less invasive surgery compared to traditional implants. The procedure is quick and relatively painless, meaning you can get back to enjoying your favorite foods in no time!
Not only are mini dental implants less invasive, but they also come with a shorter recovery time. You won't have to wait weeks or even months for your new teeth to fully heal. In fact, most patients can start using their new dental implants right away.
All-On-4 Dental Implants
All-On-4 dental implants, also known as full-arch implants or "Teeth in a Day," are a revolutionary dental implant technique used to restore an entire arch of missing teeth in the upper or lower jaw. This treatment concept is designed to provide a fixed set of teeth with only four dental implants, offering a stable and efficient solution for individuals who have lost most or all of their teeth.
The All-On-4 procedure strategically places four dental implants in the jawbone, specifically positioned to maximize support and stability. The unique angulation and distribution of the implants allow for optimal load distribution, even in cases where bone density may be compromised. Here are some of its benefits:
Immediate functionality

Fewer implants required

Faster treatment time

Enhanced aesthetics and confidence
Factors such as overall oral health, bone density, and individual considerations must be
evaluated by a qualified dentist or oral surgeon to determine if you are a suitable candidate for this treatment. They will thoroughly examine and discuss the best treatment options for your situation.
Same-Day Dental Implants
Same-day dental implants are a viable solution for people who wish to replace missing teeth but don't have the time or money for traditional implant treatments. Unlike traditional implant treatments, same-day dental implants can be placed in one visit, requiring little downtime after the procedure. This makes them ideal for busy individuals who want to restore their smiles quickly and efficiently.
The same-day dental implant procedure is relatively simple and involves placing the implant directly into the jawbone. This eliminates the need for a second visit to place the abutment, which is used to support the restoration. Following the placement of the implant, a custom-made crown or bridge is placed on top of it to restore functionality and aesthetics.
Same-day dental implants may be the perfect solution for those looking to replace missing teeth quickly and efficiently. This revolutionary procedure is fast, safe, and can provide a long-lasting solution for restoring your smile.
Other Procedures Related to Dental Implants
In addition to traditional dental implant procedures and the All-On-4 technique, there are several other procedures and methods related to dental implants that can be used to address specific dental needs. These procedures provide solutions for various situations, offering patients options beyond standard implant placement.
All-On-6/All-On-8 procedures involve placing six or eight implants per arch instead of four and are recommended for those with compromised bones or who need more stability.

Mini dental implants (MDIs) are smaller and stabilize removable dentures, suitable for those with insufficient bone volume or seeking a less invasive procedure.

Sinus lifts increase the amount of bone in the upper jaw to support implants and are performed when the sinus cavity expands into the implant area.

Ridge expansion splits the jawbone and adds bone graft material to widen the ridge, commonly used for atrophied or resorbed jawbones.

Guided Bone Regeneration (GBR) places a membrane over the implant site to promote the development of new bone cells for successful implant placement.

Immediate Load/Teeth-in-a-Day procedures allow for the placement of dental implants and a temporary prosthesis on the same day, providing immediate functionality and aesthetics.
If you're looking to get dental work done, it's essential to chat with a qualified dentist or oral surgeon. They're the experts who can figure out the best procedure for your unique dental needs.
Endosteal Dental Implants
Once inserted into the jawbone, the endosteal implant is ready to anchor a prosthetic tooth or denture. Depending on the patient's needs, individual implants can replace single missing teeth, or several implants around the mouth can secure bridges and full dentures.
The abutment, the connector piece between the prosthetic tooth or denture and implant, is then placed on top of the implant. The abutment is the part that connects the implant to the prosthetic tooth or denture and keeps it in place.
In addition to providing strong support for dental appliances, endosteal implants help maintain jaw bone health by stimulating natural bone growth and preventing deterioration. Bone loss is a natural consequence of tooth loss, but the implant acts as a root and helps prevent future bone breakdown.
Endosteal dental implants are usually made from medical-grade titanium or titanium alloys, proven to be strong, biocompatible, and long-lasting materials for implantation in the body. They are designed to securely and permanently attach to the jawbone, providing a strong foundation for prosthetic teeth.
Subperiosteal Implants
Subperiosteal implants sit on or above the jawbone and utilize a metal framework to support the prosthetic teeth. The implant consists of a custom-made metal framework typically made of titanium, with posts that protrude through the gums for attachment of prosthetic teeth.
The placement of subperiosteal implants involves a surgical procedure with an impression of the jawbone taken for a precise fit. Over time, the implants become integrated with the jawbone through osseointegration. Prosthetic teeth are customized to match the patient's natural teeth before attachment to the metal extensions or posts.
Once the healing is complete, the prosthetic teeth, which are custom-made to match the patient's natural teeth, are securely attached to the metal extensions or posts of the framework.
Pricing
At Cornerstone Dentistry, we offer high-quality dental implant solutions tailored to meet your unique needs. Our dental implant pricing is based on several factors, including the number of implants required, the complexity of the case, and any additional procedures that may be necessary to ensure the success of the treatment.
During your initial consultation, our experienced team will conduct a comprehensive examination and create a personalized treatment plan that addresses your specific dental concerns.
As each patient's situation is unique, it is difficult to provide an exact price without evaluating your oral health and discussing your treatment goals. Call us today to learn more!
If you have any questions about dental implants or would like to schedule a consultation with your Anderson implant dentist, Dr. Hardy or Dr. Wilson at Cornerstone Dentistry, you should get in touch with us.

Proudly serving patients from Anderson, Seneca , Clemson, Powdersville, Greenville, Easley, Greenwood, and beyond!
Fill out this form and we'll get in touch with you as soon as possible.