Six Month Smiles® i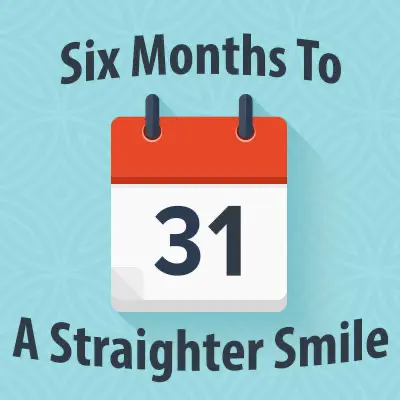 s a short-term orthodontic treatment that adds some updated twists to traditional braces—with average treatment times of only six months! No one loves the way metal wires and brackets look, and for teens and adults who are concerned about the appearance of their smile during orthodontic treatment, the clear brackets and tooth-colored wires of Six Month Smiles are more pleasing to the eye than a mouthful of metal.
Remember how the old metal brackets and wires of traditional braces would always seem to reflect the flash in pictures, or how distracting they could be when someone wearing braces was speaking, smiling, or laughing?  Cornerstone Dentistry in Anderson is a general dentist providing orthodontic services, including Six Month Smiles—the revolutionary short-term, cosmetic approach to teeth straightening.
Orthodontic Options
Orthodontics is a dental specialty that incorporates shifting teeth to the best possible form and function. The adjustment of the teeth is accomplished by using metal or plastic appliances, such as braces or clear aligners that apply just enough pressure to facilitate mobility. If your teeth are crooked, crowded, or gapped, you may be considering different types of orthodontics. The decision to have orthodontic treatment, and what kind to have, is a major undertaking. It requires time, planning, and financial investment. Because straightening teeth means moving bones—permanently—there may be a little physical soreness, too.
How Does It Work?
If you're thinking, "It must be much more painful to straighten your teeth that quickly," think again. We don't achieve dramatically beautiful results in such a short time by applying greater forces to the teeth. Where traditional orthodontic treatments seek to align the whole mouth including your teeth and bite, (which can obviously take some time—usually two years or more), Six Month Smiles focuses on only the front teeth that show when you smile. So if you don't have severe misalignment or bite problems, we can likely straighten your teeth in as little as six months! Six Month Smiles is a fabulous spin on traditional orthodontics that allows you to straighten your smile quickly and discreetly.
More Than Self-Esteem
Crooked teeth can affect more than just the way you feel about your smile. Here are a few possible side effects of crooked teeth:
Gum disease – Development of gum disease is common when the teeth are crooked and the gums don't fit securely around them, leaving space for bacteria to grow and multiply.
Difficulty cleaning teeth – Toothbrush bristles and floss have a hard time reaching the areas between misaligned teeth, which facilitates the growth of bacteria that cause tooth decay and gum disease.
Uneven tooth wear – Crowded teeth, particularly bottom teeth, often cause one or more teeth to protrude, which can rub against the upper teeth and lead to uneven or excessive wear of tooth enamel.
Increased risk of injury – Protruding upper teeth are more likely to be damaged in an accident, simply because of their placement.
Bad breath (halitosis) – Crooked teeth can smell even worse than they look. The increased likelihood of bacteria around crooked teeth increases the likelihood of bad breath, which is caused by lingering bacteria in the mouth.
Getting Six Month Smiles
If you don't like your smile, it's never too late to give it a boost! Confidence can improve your everyday life, and feeling good about your smile means you're going to show it off more often. Cornerstone Dentistry can give you a professional consultation and even create a flexible payment plan to help you get the smile you've always wanted. If you have any questions or would like to come in for a Six Month Smiles consultation, contact Cornerstone Dentistry today!
The content of this blog is not intended to be a substitute for professional medical advice, diagnosis, or treatment. Always seek the advice of qualified health providers with questions you may have regarding medical conditions.